Fabulous Coconut Espresso Martini – You'll Wish You Tried this Sooner!
Are you bored with espresso martinis? Wait until you try this Coconut Espresso Martini! It has a tropical twist, is a little nutty, and is slightly sweet. Get ready to be WOWed!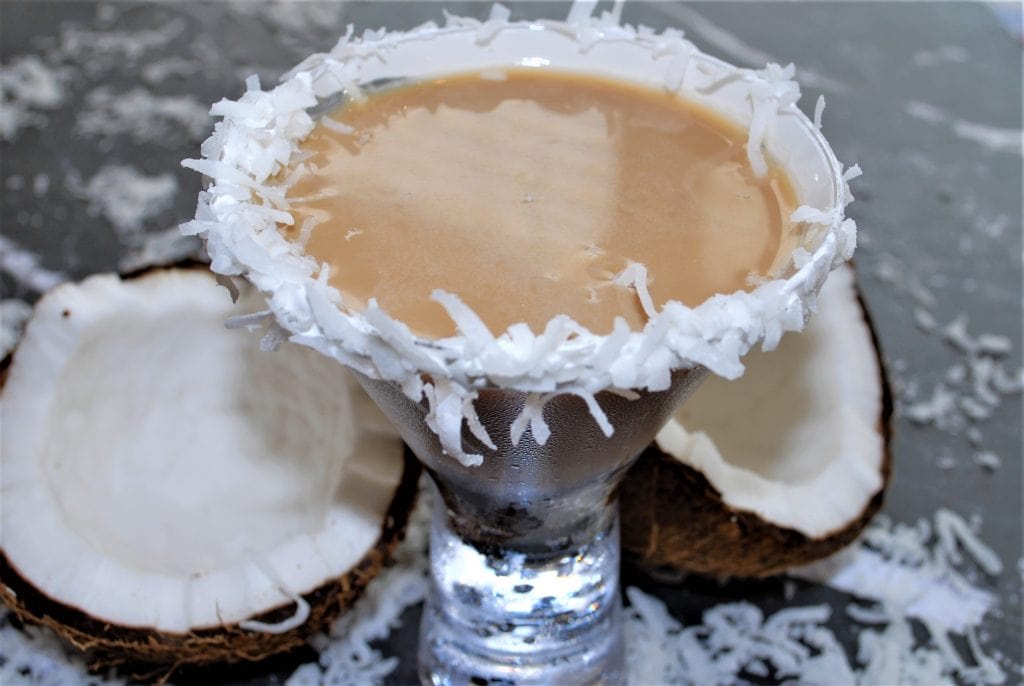 Espresso Martinis are the perfect after-dinner drink; I love them. Recently I was out with friends, and Dawn described a GREAT martini she had recently tried. It was a coconut-flavored espresso martini. Sounds delightful, right? So the next evening I had to try it.
OMG. Dawn was right. This Coconut Espresso Martini is delightful and rather easy to make. Rimming the glass takes a few more minutes, but it's well worth the wait.
This post may contain affiliate links. We make a small commission if you buy the products from these links (at no extra cost). As an Associate, I earn from qualifying purchases. But we only recommend products we would use ourselves. For more information, click here to see our disclosures.
Subscribe to my mailing list and get the unpublished Scatterbrain Peanut Butter Jello Shot recipe
Coconut Espresso Martini ingredients
You'll need coconut-flavored Vodka. I've found Veil & Pinnacle Vodkas to be excellent, 'flavored' vodkas.
Next is the Kahlua coffee-flavored liqueur and Bailey's Irish Cream. Finally, let's not forget the espresso. I have a Nespresso coffee maker so whipping up a cup of espresso is quick and easy. They are not inexpensive, but I've been using mine daily for over 2 years now, so I've gotten my money's worth. And having fresh espresso in your martini makes all of the difference.
Need a great Cocktail Shaker but don't know which one to buy? Look no further.
Most likely, I've been mixing cocktails since before you were born. I've had dozens of shakers, some good, some ok, some really bad. But these two shakers are the best! To read more about them click here.
Best Ever Economical Cocktail Shaker
Pros
Great price
It will hold 3 martinis and ice (24 oz).
Easy on top and cap. The top slides into the base and has a rubber seal. There is rubber on the neck of the top to hold the cap in place.
Does not leak.
Measuring Cap.
Stainless Steel.
Dishwasher safe (top rack).
Easily disassembles.
Cons
Single wall shaker (cold to the touch).
Best Ever Deluxe Cocktail Shaker
Pros
It will hold 3 martinis and ice (20 oz).
Screw on cap and top.
Shake with one hand (the lid will not pop off).
Does not leak. There is a rubber gasket on the cap and top.
Measuring Cap.
Double-walled (not cold to the touch).
Stainless Steel.
Dishwasher Safe (top rack), but I hand wash mine due to the price.
Cons
The top diameter is 10.5 inches (if you have arthritis in your hands, this may not be for you).
Don't over-tighten; it's not necessary.
And don't forget the chilled martini glass. Nothing is worse than a martini in a warm glass. Check out these 2 that I highly recommend. Joy Jolt set of 6 martini glasses in multi-colors and Crafthouse by Fortessa, set of 4 martini glasses. They are both dishwasher-safe. Joy Jolt is a short martini glass, great for stacking in the freezer, and the Crafthouse by Fortessa is tall and elegant. Still, finding a good spot to lay it down in the freezer is harder.
How to make a Coconut Espresso Martini
To make the Coconut Espresso Martini pour the coconut vodka, Kahlua, Baileys & espresso into a shaker filled with ice. While the martini is sitting in the shaker, spread the fluff on a small plate.
Add the coconut to another small plate.
Roll the rim of your martini glass into the fluff.
Then dip your martini glass rim down into the coconut.
Shake the shaker for 15 seconds and pour the contents of the shaker into the rimmed martini glass. Now sit back and enjoy!
Other easy martinis that you may like
Remember to subscribe to my mailing list below and get the unpublished Scatterbrain Peanut Butter Jello Shot recipe
Sharing is caring! Follow me on Facebook, Instagram and Pinterest! Quick links are to the left and at the bottom of the post.
Coconut Espresso Martini
I love espresso martinis but when I tried this Coconut Espresso Martini it had a tropical twist, was a little nutty and slightly sweet. Get ready to be WOWed!
Ingredients
Martini
2

Oz

Coconut Vodka

I use Veil when I need a flavored vodka

1/2

Oz

Kahlua

1/2

Oz

Baileys

1

Oz

Espresso, chilled

Chilled martini glass
To rim the glass
3

Tbs

Sweetened Coconut Flakes

2

Tbs

Marshmallow Fluff
Instructions
Prepare the coconut rim
Put the coconut flakes on a plate

Spread the marshmallow fluff on another plate

Take a chilled martini glass and swirl the rim in the marshmallow fluff until the entire rim is coated in fluff

Then place the martini glass, rim side down into the plate of shredded coconut flakes
Prepare the martini
Pour the coconut vodka, Kahlua, Baileys and Espress into a shaker with ice

Shake the shaker for 15 seconds and pour the ingredients into the rimmed martini glass