How to make an absolutely AMAZING Bourbon Blackberry Mead Cocktail!
What can be better than this unique Bourbon Blackberry Mead Cocktail? Blackberries are sweet and tangy. Bourbon tends to have some sweetness with a hint of caramel. And Mead tastes like a mild wine with a touch of honey.
Imagine the taste when mixing blackberries, Bourbon, Mead, and honey. The Bourbon shines through, but the drink has a slightly sweet, slightly fruity flavor with a hint of white wine. This cocktail is refreshing, absolutely delightful, and the perfect drink for sipping on your back deck!
The Bourbon cocktail takes just an extra minute, but it is worth the wait, especially if you are a Bourbon drinker. The drink gets sweeter as you drink and get closer to the berries on the bottom of the glass.
And yes, when done with my cocktail, I do get a spoon and eat the blackberries. Truly amazing.
Do you want to know the secrets to mixing the best cocktails EVER? Get my free printable guide, 'Mix, Mingle & Marvel: 5 Essential Secrets to Crafting Cocktails That Wow!' just for joining my mailing list.
Bourbon Blackberry Mead Cocktail Ingredients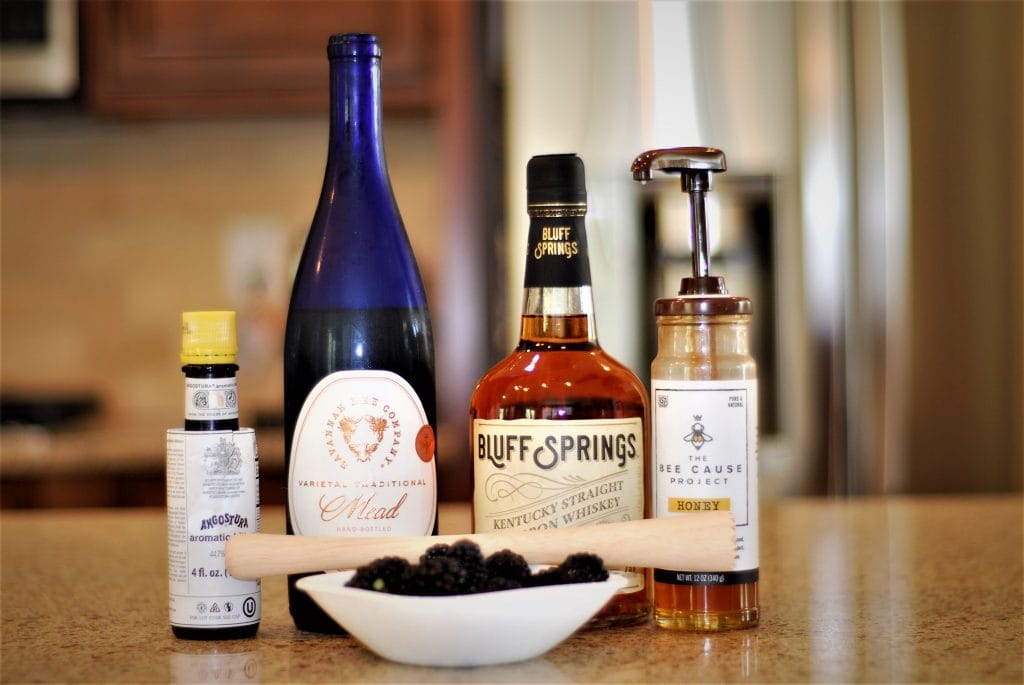 Bourbon
Honey Mead
Honey
Bitters
Blackberries
Orange Peel
Lemon Twist – Optional
Tips
For Bourbon, try Bluff Springs, one of my favorites, for a softer, sweeter flavored bourbon.
This recipe also requires Mead. Not every liquor store sells Mead, so you should check first. I purchased my Mead and Honey at the Savannah Bee Company in Charleston.
This post may contain affiliate links. We make a small commission if you buy the products from these links (at no extra cost). As an Associate, I earn from qualifying purchases. But we only recommend products we would use ourselves. For more information, click here to see our disclosures.
Bar Tools you'll need to make a Bourbon Blackberry Mead Cocktail
Best Ever Economical Cocktail Shaker
Here is an awesome product to help YOU make the most incredible drinks. Impress your family and friends and be the BEST Cocktail Barista in your neighborhood.
I've had dozens of shakers, some good, some ok, some really bad. But this shaker hits the mark!
Pros
Great price
Will hold 3 martinis and ice (24 oz)
Easy-on, easy-off top and Cap (no need to bang it on the counter to release the top)
Does not leak (do not shake wildly without your hand on the top; that is just asking for trouble)
Measuring Cap from 1/2 to 1.5 ounces (perfect measure, perfect cocktail)
Stainless Steel
Dishwasher safe (top rack)
Cons
Single wall shaker (cold to the touch). I'm not too fond of the feeling of a cold shaker in my hand, so I wrap mine in a bar towel and shake away. My drinks get frosty!
Remember the Muddler
Prep Work
Mix the honey and water in a separate bowl to make the honey syrup. Then, use a potato peeler to peel off a 1-inch x 2-inch piece of orange rind.
How to make a Bourbon Blackberry Mead Cocktail
Add the blackberries, bitters, honey syrup, and orange peel to a glass and muddle (smash the fruit with the muddler) for a few seconds.
Add the Mead and Bourbon to a shaker half full of ice and shake for 5 seconds.
Add a large ice cube to the glass and pour the strained contents of the shaker over the cube. Stir.
Now you are ready to enjoy. Garnish with a lemon twist, optional.
Now that you've made your Bourbon Blackberry Mead cocktail, head out to your back deck and savor the flavor!
Remember to subscribe to my mailing list below and get Mix, Mingle & Marvel: 5 Essential Secrets to Crafting Cocktails That Wow!
If you enjoyed this Bourbon Mead cocktail, try these other easy cocktails made with Mead or Bourbon:
Sharing is caring! Follow me on Facebook, Instagram, and Pinterest! Quick links are to the left and at the bottom of the post.
Bourbon Blackberry Mead Cocktail
Want to make an absolutely AMAZING Bourbon Blackberry Mead Cocktail? Mead, honey syrup and the blackberries makes this Bourbon drink an extraordinary refreshing cocktail!
Ingredients
3

Blackberries

2

Tablespoons

of Honey Syrup

recipe below

2

Dashes

Angostura Bitters

1

Orange Peel

1 1/2

Ounce

Honey Mead

1

Ounce

Bourbon

Ice

preferably a 2 x 2 inch cube

Lemon twist

Optional
Honey Syrup
2

Tbsp

of Honey

2

Tbsp

of Water
Instructions
Honey Syrup
Stir the honey and the water in a small bowl until dissolved
Bourbon Blackberry Mead Cocktail
Combine blackberries, honey syrup, bitters and orange peel in a large rocks glass

Muddle together, mashing the blackberries

Add a single 2 in by 2 in cube to the glass

Fill a shaker half full of ice and add the Bourbon and Mead

Shake for 5 seconds then pour the strained ingredients into the glass

Garnish with a lemon twist, optional
If you've tried this, please leave a comment and rating below.