Cool blue like the Caribbean, easy to make, and absolutely delightful – The Ice Breaker!
The Ice Breaker is the most mesmerizing BVI cocktail ever, with rich coconut and sweet orange flavors. This drink puts a twist on the basic Pina Colada. And the best thing about the Ice Breaker is that you don't need a blender.
While traveling in the British Virgin Islands in 2021 during the pandemic, I hired a guide to take me to some nearby islands. I wanted to learn how to mix the best tropical cocktails in the BVIs.
Cooper Island Beach Club, my first stop, a bartender named Saturn, suggested I try a tropical cocktail called the Ice Breaker. Click on the flag below to watch a Saturn making an Ice Breaker YouTube video.
Ingredients that you'll need to make this awesome Ice Breaker
Saturn uses Blue Chair Bay Coconut rum, fresh lime juice and coconut cream for the tropical cocktail recipe, the Ice Breaker. I found the Blue Chair Bay Coconut rum at my local liquor store, Total Wine.
I typically buy the Goya cream of coconut in the international section of my grocery store. It's a bit less expensive than the coconut cream you would find in the drink mix section of the store. Sometimes if I'm in a hurry or don't have any fresh limes at home, I'll use bottled lime juice.
This post may contain affiliate links. We make a small commission if you buy the products from these links (at no extra cost). As an Amazon Associate, I earn from qualifying purchases. But we only recommend products we would use ourselves. For more information, click here to see our disclosures.
Bar Tools – Steel Shaker OXO Products are Fantastic
Next, you can't make a great martini without a great shaker. I have at least a dozen shakers, but this one from OXO is my favorite. It doesn't leak, and the cap is a measuring cup that will measure from 1/2 ounce to 1.5 ounces. And it is dishwasher safe! You can't go wrong with OXO.
How to make the cool blue Ice Breaker
Saturn shakes the Blue Chair Bay Coconut Rum, lime juice, and cream of coconut in a shaker filled with ice. Then he pours the strained liquid into a glass filled with crushed ice. Finally, Saturn tops it off with Blue Curacao and a quick stir.
If you don't have a good shaker, try this one from OXO. This drink reminds me of a Pina Colada with a blue twist! Delicious and easy to make, sipping this cocktail brings me right back to the beach on Cooper Island!
So shake it up, sit back, and relax. And imagine you are at the bar on Cooper Island, BVIs.
Tropical cocktail recipes from Cooper Island Beach Club from left to right: Endless Summer, Pina Colada and an Ice Breaker (this recipe). Try all 3 recipes. Enjoy!
Sharing is caring! Follow me on Facebook, Instagram, and Pinterest! Quick links are to the left and at the bottom of the post.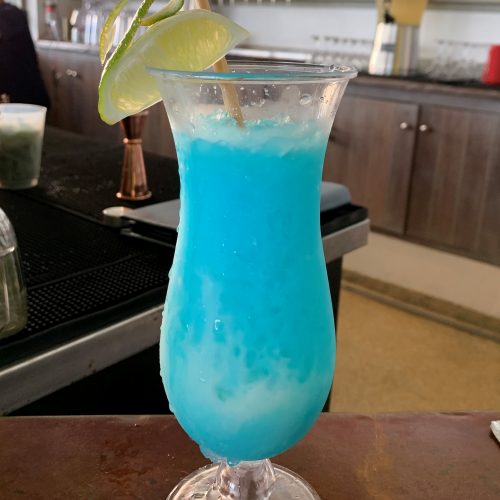 Cooper Island's Ice Breaker
This exotic island drink is made with Blue Chair Bay Coconut Rum, coconut cream, Blue Curacao and lime juice. Make sure you watch the video of Saturn demonstrating how he makes it, straight from the Cooper Island Beach Club, BVIs.
Ingredients
1.5

Ounce

Blue Chair Bay Coconut Rum

You can also substitute the Blue Chair Bay rum with any other coconut flavored rum

1

Ounce

Lime Juice

I use Realime lime juice but you can also use freshly squeezed lime juice

1

Ounce

Cream of Coconut

Goya in the international section of your grocery store is really good

Ice

1.5

Ounces

Blue Curacao

1

Slice

Lime for garnish
Instructions
Add rum, lime juice and coconut cream to the shaker and shake well for 15 seconds

Fill a tall glass with crushed ice

Pour the strained contents of the shaker into the glass with crushed ice

Pour the Blue Curacao on the top of the drink and stir gently two or three times
If you've tried this, please leave a comment and rating below.