8 Exotic, Amazing and Effortless drinks the British Virgin Islands have to offer
Love travel? Interested in exotic cocktails? Here you will find the recipes and 'how to' videos for some of the best-tasting drinks in the British Virgin Islands
My trip to the BVIs started on a frigid day, the Saturday after Thanksgiving. It had been postponed once due to the pandemic, so I was looking forward to getting away. I flew into St. Thomas and took a water taxi to the West End of Tortola. There I had to show proof of COVID vaccination and my negative COVID test from the day before. I traveled during the pandemic, and the documentation was needed to enter the British Virgin Islands. From there, I took a taxi to Trellis Bay and then the ferry over to Scrub Island.
The plan was to find a friendly bartender to show me how to make some of the most exotic drinks from the British Virgin Islands. My goal was to bring a taste of the Islands home and share the recipes with you.
The Marriott Scrub Island Resort, Spa, and Marina was my home base for the week. It was a perfectly low-key place with several shops, including the Outpost Market & Deli. They had everything I needed to stock my suite with snacks and drinks. The Outpost also served excellent breakfast sandwiches in the morning, so I started with a delicious egg and bacon sandwich each day. You go, girls!!!!
Next to the Outpost was the Dive BVI shop, and besides offering tours and dives, they had great souvenirs. Needless to say, I bought quite a few items there.
After I got settled into my room, I scheduled an all-day charter to the islands around Tortola.
The next day, Captain Jaime picked me up at the Scrub Island Marina from 3 J's Boat Charter. We headed southeast to the Virgin Gorda Baths. Of course, I had to mix business with pleasure, and after a 200 ft swim to the beach, I took a leisurely stroll through the "Baths." Ok, so it's not exactly leisurely, but it is a natural wonder and something that you shouldn't miss if you are in the area. After a swim back to the boat, we headed over to Cooper Island.
Cooper Island Beach Club, Cooper Island, BVI
Cooper Island is southeast of Tortola. On the island is this great eco-friendly resort called the Cooper Island Beach Club on the northwest shore. The restaurant overlooks the beautiful Manchioneel Bay's sandy beach. The Beach Club has guest rooms, a marina, restaurant, coffee shop, and rum bar. Below are some photos of both of the menus. Please realize that items and prices on the menus are subject to change.
Mix, Mingle & Marvel: 5 Essential Secrets to Crafting Cocktails That Wow! This free guide is my gift for subscribing to my mailing list.
This post may contain affiliate links. We make a small commission if you buy the products from these links (at no extra cost). As an Associate, I earn from qualifying purchases. But we only recommend products we would use ourselves. For more information, click here to see our disclosures.
Cooper Island Beach Club Menus
Both the food and drink menus were stylishly created and had an excellent selection to choose from. I introduced myself to the Manager and asked her if I could video one of her bartenders mixing up a tropical cocktail. She knew what cocktails would be great for the blog and introduced me to the Bartender. His name was Saturn, and he told me about a couple of cocktails he recently created the Endless Summer and Ice Breaker.
The Ice Breaker is like a light, refreshing version of a pina colada, but blue, like the Caribbean. You can't go wrong when ordering this cool blue Caribbean cocktail. Watch the excellent video below of Saturn from the Cooper Island Beach Club making an Ice Breaker.
Cooper Island Beach Club's Ice Breaker
Click on the video to watch Saturn mix up an Ice Breaker
Cooper Island Beach Club's Endless Summer
This next drink is so unique because it uses lavender syrup. When I was at the Cooper Island Beach Club, they were out of lavender syrup, so the cocktail was made with blueberry syrup instead. It tasted great, and if Saturn didn't tell me he replaced the lavender with blueberry syrup, I wouldn't have known and would have loved it just the same.
But when I got home, I ordered lavender syrup and mixed up an Endless Summer. It had such a unique taste and was absolutely amazing. I've made it several times since I've returned from the BVIs. Every time I drink an Endless Summer, it takes me back to my seat overlooking the ocean at Cooper Island Beach Club. Check out the view in the picture below…..THIS IS REAL.
Click on the video to watch Saturn make an Endless Summer
Many thanks go out to Saturn and his Manager! They were warm and welcoming and shared the best cocktail recipes the Cooper Island Beach Club had to offer! If you ever visit them on Cooper Island, please tell them I said hello!
Oceans 7, Peter Island, BVI
Our next stop was Peter Island, which is southwest of Tortola. On Peter Island, you'll find a yacht club called Oceans 7. Mark, the Bartender at Oceans 7, said that his most popular drink is the Bushwacker. The name of this drink makes me think of a cocktail full of hard liquor, it tastes terrible, and you just drink it to get drunk! But I was so wrong…..well, not that it is not full of liquor, but that it actually tastes delicious.
After watching Mark make a Bushwacker and tasting it, I fell in love with this rich and creamy dessert drink with a kick! Who in their right mind would order a drink with 10 ounces of liquor?! I did!
After we left Peter Island, we spent the rest of the day on the boat, just cruising around and enjoying the beautiful weather. We stopped at the Caves on Norman Island to snorkel and, of course, feed the fish. There were friendly yellow tails, blue tangs, and sergeant majors. The fish were waiting for me to show up with my bag of Fritos. There were a hundred fish as soon as the first crumb hit the water. And with each Frito came a fantastic show of talent and color.
We headed to Jost Van Dyke's White Bay when the Fritos ran out. This is where the famous Soggy Dollar Bar is located. If you go to their website, they have a webcam on the beach. I thought that was very 'interesting'. One night I'd like to stay up late and watch the webcam lmao…. Of course, they were so busy there was not a place to tie up in the ocean in front of the bar.
Since the sun was starting to set, I decided to call it a day. Captain Jaime turned the boat around, and we headed back to Scrub Island.
During my 5 days in the BVIs, I went to Donovan's several times. After a day of photographing and sampling cocktails, I was starving, so I headed up to Donovan's Reef for dinner. It was very convenient, and no matter how many times I dropped in, everything I ordered from the menu was fresh, perfectly cooked, and tasted great. Kudos to the Chef and staff at Donovan's.
The following day, I headed up to the pool bar. It was early, so the Bartender was just setting up. The sun rises from behind the hotel and pool, so I knew the best photographs would need to be taken before noon. I introduced myself to Stacy, the Bartender. I told her I wanted 3 drinks, so I ordered the Scrubslide, Basil Shores, and Scrub Island Spiced Tea.
This is a photo of the room key holder provided by the hotel. I thought it was cool because it gives you a 'bird's eye view' of the island.
Stacy asked if I would drink all those drinks by myself, and I explained that I wanted to taste them and photograph them. I told her that I had a blog and wanted to highlight the exotic drinks of the BVIs.
At that point, Stacy suggested I try a drink she created, called the Blue Passion. It was everything an exotic tropical cocktail should be! So, even though it was only 10:30 a.m., I pulled a lounge chair up to the edge of the pool and enjoyed the Scrub Island Blue Passion. Thank you, Stacy, for introducing me to your Hpnotiq cocktail and hospitality.
I spent just a few more days doing a bit of sightseeing and lounging on the beach. The Scrub Island North Beach is beautiful. A bar/restaurant called the One Shoe Bar, a pool, and plenty of beach chairs and umbrellas. Scrub Island Resort provides transportation to North Beach and back.
Thank you, Jeffery, for the ride and the many requests I made during my stay.
All in all, it was a great trip, with warm and welcoming people that were excited to showcase and share their favorite BVI cocktails with me. Now you can make these exotic drinks at home and bring some of the Caribbean to your town. Enjoy the recipes! And when you visit the BVIs, ask Saturn, Mark, and Stacy to mix up one of their exotic drinks for you!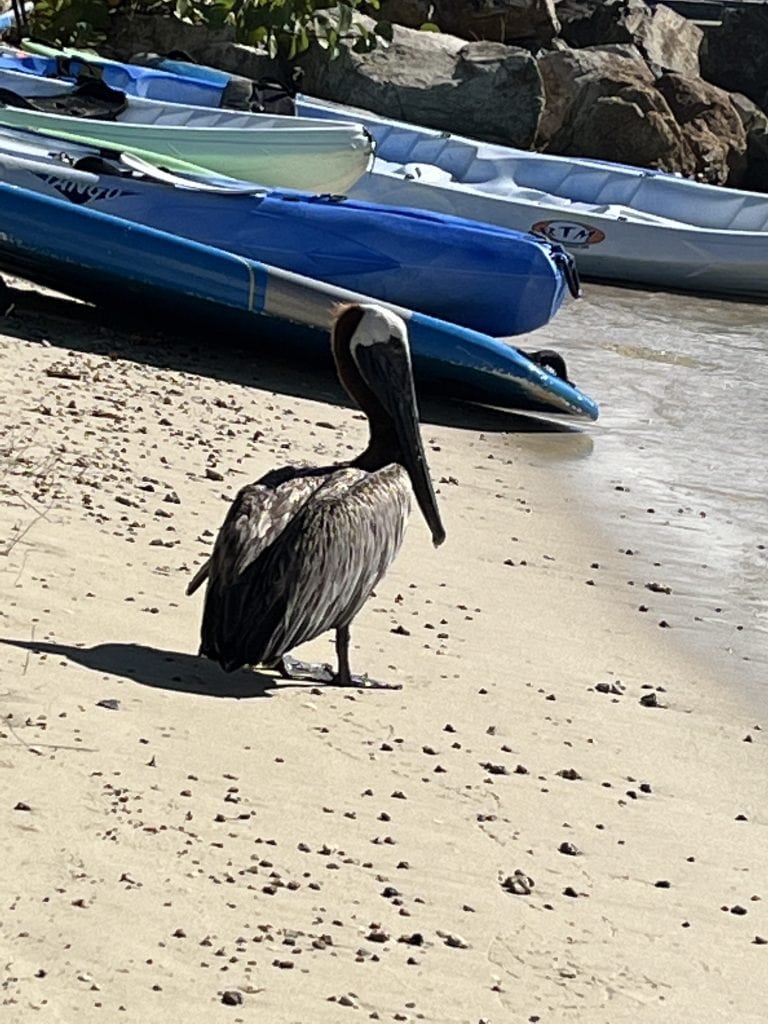 Special thanks to my friend Kim, for taking some of the most incredible photos
Sharing is caring! Follow me on Facebook, Instagram, and Pinterest! Quick links are to the left and at the bottom of the post.
Remember to subscribe to my mailing list below and get Mix, Mingle & Marvel: 5 Essential Secrets to Crafting Cocktails That Wow!