3 Reasons This is the Best Pimento Cheese Appetizer You'll EVER Make
As a former-Northeasterner-turned Southerner, I wanted to create a fabulous appetizer for a party but hadn't a clue what might be a party-pleaser. Enter: Pimento cheese! Everyone loves it, but I never tried this creamy and slightly spicy delicacy till I moved South–and then I became a believer!
This fast and easy recipe will be the hit at your next family gathering.
Do you want to know the secrets for mixing the best cocktails EVER? Get my free printable guide, 'Mix, Mingle & Marvel: 5 Essential Secrets to Crafting Cocktails That Wow!' just for joining my mailing list.
Ingredients you'll need to make this appetizer
Your favorite Pimento Cheese
Terrapin Ridge Farms Hot Pepper Bacon Jam
Phyllo Shells
First, choose between two different bases. I usually use Phyllo Shells, but when in a hurry, I pick up a bag of garlic toasts at my local supermarket.
Second, you get to use your favorite Pimento Cheese. If you're unsure which Pimento Cheese to use, I have two suggestions below.
The topping is the third reason this will be the best appetizer you'll ever make. The Terrapin Ridge Farms Hot Pepper Bacon Jam I found at Publix is SCRUMPTIOUS!!!! Put it all together, and you will have happy friends and family!
This post may contain affiliate links. We make a small commission if you buy the products from these links (at no extra cost). As an Associate, I earn from qualifying purchases. But we only recommend products we would use ourselves. For more information, click here to see our disclosures.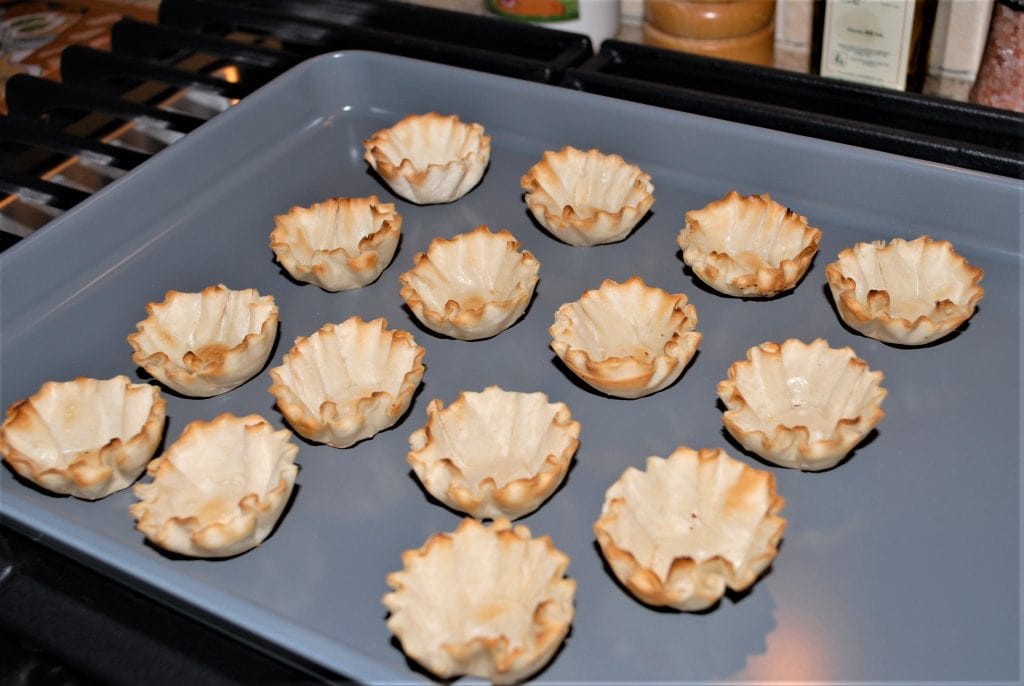 How to make the Pimento Cheese appetizer
Do you like light, flaky layers in a small shell or a crunchy toasted bread. I love both so you'll have to decide for yourself which bottom you want to use. If you can't decide, make them both, I did at my last party!
If you go for the light, flaky layers, place the phyllo shells on a baking sheet and bake per the instructions, about 3 – 5 minutes. Put them on the stove or a rack to cool.
If you go for the crispy toasted bread bottom, pick up a package of toasted French Bread Rounds in the bakery section of your grocery store.
Next choose your Pimento Cheese. I'm all about 'quick'. With a job, family, pets, and blog, I rarely cook from scratch. There are hundreds of recipes for Pimento Cheese, but my two favorite store-bought Pimento Cheeses are Pawleys Island Palmetto Cheese, and MyThreeSons.
Mix, Mingle & Marvel: 5 Essential Secrets to Crafting Cocktails That Wow! This free printable guide is my gift to you; all you have to do is subscribe to my mailing list.
I promise to keep your email safe.
Southern Living Taste Test – Pimento Cheese
The Palmetto Cheese Spread by Pawleys Island Specialty Foods was the top contender in a taste test posted by Southern Living and written by Zoe Denenberg. Originating in South Carolina's Lowcountry, this specialty cheese is now sold in 49 states at over 9,200 locations. I was able to find this at WalMart. I also found this brand is a bit spicier than MyThreeSons.
MyThreeSons Pimento Cheese Emily's Original was bought at Publix. It is a bit milder than the Palmetto Cheese from Pawleys Island. BUT, neither one is overly spicy. I'm a mild salsa girl and I enjoy them both. The Terrapin Ridge Farms Hot Pepper Bacon Jam also has a bit of a kick.
If you like the lemon table runner you can find it here.
Here's a Tip
Take the pimento cheese out of the refrigerator about 45 minutes before you are ready to use it. It will soften up and will become easier to spread.
Once you decide on your base, and your pimento cheese, the rest is easy.
For Phyllo: place the Phyllo shells on a serving platter and spoon in the Pimento Cheese. Then add a dollop of the Terrapin Ridge hot pepper bacon jam to the top of each appetizer.
For French Bread Rounds: Spread the top of the bread with Pimento Cheese. Add a dollop of Terrapin Ridge hot pepper bacon jam to each toast. Done! You can make this appetizer 2 hours in advance and refrigerate until you are ready to serve.
Remember to subscribe to my mailing list below and get Mix, Mingle & Marvel: 5 Essential Secrets to Crafting Cocktails That Wow!
Sharing is caring! Follow me on Facebook, Instagram, and Pinterest! Quick links are to the left and at the bottom of the post.
Pimento Cheese Appetizer
This easy but delicious southern appetizer recipe is made with pimento cheese and hot pepper bacon jam. It has a light kick, and can be served on French bread rounds or in Phyllo Shells.
Ingredients
1

20 oz

Pimento Cheese

My two favorites are MyThreeSons and Palmetto Cheese Spread by Pawleys Island

1

10.5 oz

Terrapin Ridge Farms Hot Pepper Bacon Jam

2

Packages

Phyllo Shells or 1 Package of French Bread Rounds
Instructions
Phyllo Shells Appetizer
Place the Phyllo Shells from 2 boxes on a baking sheet

While the Phyllo Shells are cooling, take the pimento cheese out of the refrigerator to come to room temperature

When the shells are cool, fill them with Pimento Cheese

Add a dollop of Hot Pepper Bacon Jam to the top

These Pimento Cheese appetizers can be made 2 hours in advance
French Bread Rounds Appetizer
Take the pimento cheese out of the refrigerator to come to room temperature

Spread each French Bread Round with Pimento Cheese

Add a dollop of Hot Pepper Bacon Jam to the top

These Pimento Cheese appetizers can be made 2 hours in advance